PV MD1200, 2 X 300GB SAS 6Gbps 15k 3.5″ HD, PERC H800A Controller Card
At a Glance
Dell PowerVault MD1200 direct-attached storage DAS offers versatility and high-capacity storage for mainstream applications, with optimal performance in sequential (streaming) applications.

Expansion for Mainstream and Capacity-Intensive Single Server Applications
Dell PowerVault MD1200 is the second generation of Dell's low-cost, high-capacity expansion enclosure that improves density, versatility, and performance over previous generation to enhance support for mainstream and capacity-intensive applications.
The PowerVault MD1200 offers seamless expansion for Dell PowerEdge servers with the PERC H810 Host-RAID adapter. It also offers to drive flexibility when adding capacity or data tiering to any of Dell's primary storage arrays.
Easily Expand Your Server Capacity: The PowerVault MD1200 is engineered to seamlessly expand the capacity of Dell PowerEdge servers and PowerVault MD3 storage series. This expansion enclosure can support twelve, 3.5- or 2.5-inch SAS hard-disk drives (HDDs) or solid-state drives (SSDs)4 in a 2U array and expands up to 8 arrays behind a single PERC H810 Host-RAID adapter.
Versatility and Flexibility to Meet Most Business Needs: The MD1200 is Dell's most versatile direct-attached storage expansion enclosure. Featuring support for 2.5-inch drives, as well as the ability to mix 2.5-inch4 and 3.5-inch enclosures behind a single PERC H810 Host-RAID adapter,the PowerVault MD1200 delivers capacity and performance to support most customer deployments.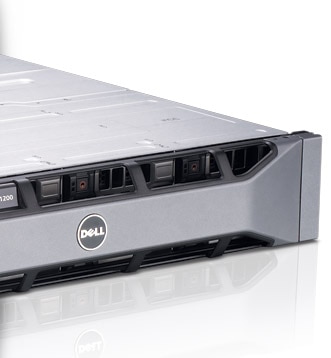 Support the Business, No Matter the Need
| | | |
| --- | --- | --- |
| | | This offers customers the ability to support mainstream, capacity-intensive and performance-intensive applications in a single storage solution. This flexibility makes it easy to tier your data by matching your data requirements and drive characteristics to maximize the efficiency of your storage solution. |
| | | |
| | | Support for 2.5-inch and 3.5-inch drives in PowerVault MD1200. Additionally, customers can mix 2.5 inch and 3.5-inch enclosures behind a single PERC H810 Host-RAID adapter |
| | | |
|   | | Mix and Match 7.2K (Nearline), 10,000 and 15,000 RPM SAS Hard Disk Drives (HDDs) with Solid State Drives (SSD). This includes SAS HDDs that support SED (Self-Encrypting Drive) technology. |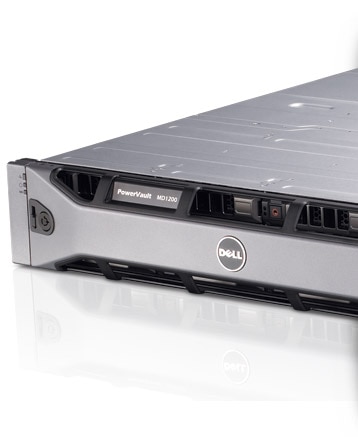 Keeping Your Data Safe
Access and accuracy of your data is key to the success of any business. The PowerVault MD1200 has been engineered to help maximize your uptime and security of your data.
| | | |
| --- | --- | --- |
| | | Redundant Path with I/O Load Balancing: You can rest assured that your data will be available when you need it. Even if a single cable path fails from one port of the PERC H810, you will continue to have access to your data through the second port. |
| | | |
| | | Self-Encrypting Drives (SED): Self-encrypting drives help to ensure that your data is secure with drive-level encryption, so, even if a drive is removed from its storage system or the server in which it is housed, the data on the drive is encrypted and rendered useless to anyone who attempts to access it without the appropriate security authorization. Additionally, SED supports instant secure erase of drives, which permanently removes data when repurposing or decommissioning drives. |
| | | |
| | | Hot-Swappable Drives: With hot-swappable drives, you can remove and replace drives even when your system is operating. No need to shut down, and no need to reboot: New drives are available right away |
Leveraging the PERC H810 RAID Controller
The PowerVault MD1200 leverages the PERC H810 Host-RAID adapter with the latest PCI Express 2.0 interface, offering excellent performance for the enterprise.
The configuration of the PERC H810 Host-RAID adapter helps to increase reliability and fault tolerance by enabling the software to recognize the entire enclosure as a single unit, regardless of how many disks are activated for storage. With the PERC H810, customers can choose the RAID option that supports their application. The PERC H810 supports RAID levels 0, 1, 5, 6, 10, 50 and 60.
Dell PowerVault MD1200 is engineered to work optimally with Dell PowerEdge servers. Dell OpenManage™ Storage Manager Software can manage both the external and internal storage within the server itself.
Streamlining storage management through a single, common interface helps reduce resource load on the system, and is easier to navigate for the user as well. The PowerVault MD1200 utilizes the same 2.5-inch and 3.5-inch drives as Dell's PowerEdge servers, and the same power supplies and fans as the PowerVault MD1220, helping to reduce the number of spares required.
The PowerVault MD1220 is supported behind most PowerEdge servers: See PERC H810 server compatibility matrix for a list of currently supported servers.
Connectivity
Support for the following configurations:

Unified mode (single path) for daisy-chaining of up to 8 enclosures per PERC H810 (4 enclosures per port, single path)Unified mode (redundant path) for daisy-chaining up to 4 enclosures per PERC H810 (4 enclosures connected to both ports via redundant path cabling)

Split mode with dual Enclosure Management Modules providing direct connectivity to drives 0 through 5 and separate connectivity to drives 6 through 11.
RAID
PERC H800 supports RAID levels 0, 1, 5, 6, 10, 50 and 60.
Back-Panel Connectors
SAS connectors (per EMM)

1 SAS (SFF 8088) "IN" connector for connection to the host
1 SAS (SFF 8088) "OUT" connector for expansion to an additional enclosureSerial connector (per EMM)

1 6-pin UART mini-DIN connector (for factory use only)
Chassis
Height8.7cm (3.43 inches)

Width

48.2cm (18.98 inches)

Depth

59.4 (23.39 inches)

Weight

28.39 kg (62.6 lb) (maximum configuration)
8.84 kg (19.5 lb) (empty)
Environmental Operating Conditions
Temperature:

Operating: 10° to 35°C (50° to 95°F) with maximum temp gradation of 10°C per hour
Storage: -40° to 65°C (-40° to 149°F) with temp gradation of 20°C per hour
Supports Fresh Air cooling, up to 35 degrees CelsiusRelative humidity:

Operating: 8% to 85% (non-condensing) with maximum humidity gradation of 10% per hour
Storage: 5% to 95% (non-condensing)

Altitude:

Operating: -16 to 3048 m (-50 to 10,000 ft)
Storage: -16 to 10,600 m (-50 to 35,000 ft)
Operating System
Refer to RAID Card for details on supported Operating Systems:
PERC H810