Dell Storage PowerVault MD1200 Base 2*4TB 7.2K RPM HD – 3Yr
High-performance, energy-efficient direct-attached storage (DAS)
Customers seeking a direct-attached, energy-efficient storage array that provides the performance to satisfy demanding applications.
Overview
Features and Design

At a Glance
PowerVault MD1220 is a direct-attached, energy-efficient storage expansion enclosure that provides the performance to satisfy demanding applications.
Expansion for Performance-Intensive, Single-Server Applications
PowerVault MD1220 direct-attached storage (DAS) enclosure is the second generation of Dell's energy-efficient, small-form-factor (SFF), 2.5-inch drive expansion enclosure. The PowerVault MD1220 offers seamless expansion for Dell PowerEdge servers and various Dell Storage arrays, providing IOPs needed to satisfy the performance-intensive applications. This expansion array can support 24, 2.5-inch SAS hard-disk drives (HDDs) or solid-state drives (SSDs)* in a 2U array and expands up to 8 arrays per adapter, so you don't have to trade capacity for performance.

Optimizing Performance, Enhancing Security While doubling the Throughput: The PowerVault MD1220 leverages SAS 2.0 technology, which enables double the throughput over the previous generation, with a 6Gb/s SAS interface and offers performance optimization with automatic I/O load balancing across redundant paths and enhanced security, over the previous generation with new self-encrypting drive (SED) support.

Improved efficiency: The PowerVault MD1220 improves energy efficiency over the previous generation, with new 80PLUS® Silver Certified power supplies. This enhancement augments the efficiencies already gained with 2.5-inch drives and variable speed fans.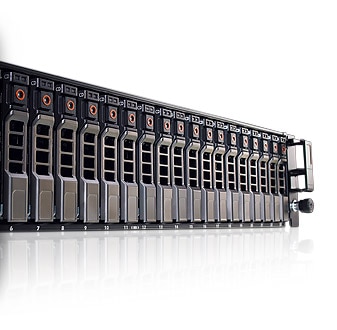 Satisfying Even the Most Performance-Hungry Applications
The PowerVault MD1220 direct-attached storage array offers compelling performance.
6Gb/s SAS: With improved throughput from the last-generation, the PowerVault MD1220 can satisfy even the most performance-intensive applications, such as Web hosting, database, and e-mail.
Solid State Drives: Pair the increased IOPs and throughput of 6Gb/s SAS with support for solid-state drives (SSD), an ideal solution for applications that rely on random block access.
Automatic I/O Load Balancing: Further optimizing the performance of the PowerVault MD1220, the PERC H810 Host-RAID adapter has automatic I/O balancing between the server and storage array. The PERC H810 can detect when a single path starts to get saturated and then balance the I/O traffic across both paths.
The PowerVault MD1220  can deliver the speed, performance, and reliability to satisfy performance-intensive single-server applications that store active and frequently changing information.
Your Energy-Conscious Storage
The PowerVault MD1220 is a small-form-factor (SFF) expansion enclosure that helps manage power, heat and space consumption in your data center. In fact, 2.5-inch disks consume less power and 70% less space than 3.5″ drives and support Fresh Air cooling (up to 35º Celsius).
Additionally, the MD1220 power supplies are 80PLUS® Silver Certified, and, with variable-speed, temperature-controlled fans, are designed to deliver optimal performance and energy efficiency
Keeping Your Data Safe
Access and accuracy of your data are key to the success of any business. The PowerVault MD1220 has been engineered to help maximize your uptime and the security of your data.

Redundant Path with I/O Load Balancing: You can rest assured that your data will be available when you need it. Even if a single cable path fails from one port of the PERC H810, you will continue to have access to your data through the second port.

Self-Encrypting Drives (SED): Self-encrypting drives help to ensure that your data is secure with drive-level encryption, so, even if a drive is removed from its storage system or the server it in which it is housed, the data on the drive is encrypted and rendered useless to anyone who attempts to access it without the appropriate security authorization. Additionally, SED supports instant secure erase of drives, which permanently removes data when repurposing or decommissioning drives.

Hot-Swappable Drives: With hot-swappable drives, you can remove and replace drives even when your system is operating. No need to shut down, and no need to reboot: New drives are available right away.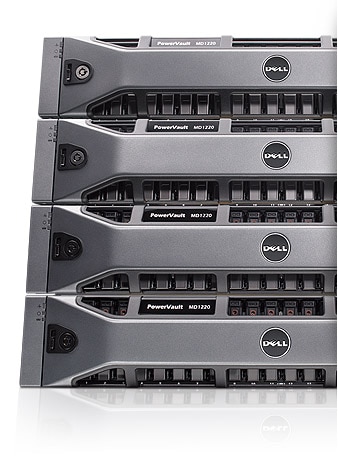 Leveraging the PERC H810 RAID Controller
The PowerVault™ MD1220 leverages the latest PCI Express 2.0 interface, offering excellent performance for the enterprise.The configuration of the PERC H810 Host-RAID adapter helps to increase reliability and fault tolerance by enabling the software to recognize the entire array as a single unit, regardless of how many disks are activated for storage in the array. With the PERC H810, customers can choose the RAID option that supports their application. The PERC H810 supports RAID levels 0, 1, 5, 6, 10, 50 and 60.
Dell™ PowerVault MD1220 storage array is engineered to work optimally with Dell PowerEdge™ servers. Dell OpenManage™ Storage Manager Software can manage both the external array and internal storage within the server itself. See the PERC H810 server compatibility matrix for a list of currently supported servers.
Streamlining storage management through a single, common interface helps reduce resource load on the system, and is easier to navigate for the user as well. The PowerVault MD1220 utilizes the same 2.5-inch drives as PowerEdge servers, and the same power supplies and fans as the PowerVault MD1200, helping to reduce the number of spares required.
Dell EMC offers complete end-to-end services
Optimizing the IT lifecycle is vital. Dell EMC has expert services
*
 for all lifecycle phases that save you time and resources, reduce effort, and improve your IT experience.
ProSupport Enterprise Suite
Gain the freedom to focus on your business transformation with the support expertise and insights Dell EMC is known for across the globe. Choose the right support based on the criticality of specific systems with available automated predictive analysis, collaborative third-party assistance and service account management.
ProDeploy
ProDeploy Enterprise Suite helps you get more out of technology starting on day one. Trust Dell EMC experts to lead deployments from basic hardware installations through planning, configuration, and complex integrations. Our complete suite of deployment services and professional certifications helps you achieve business outcomes today and tomorrow.
Training
Education Services offers an expansive suite of training services with multiple delivery methods, including instructor-led, self-paced online and virtual instructor-led training. With comprehensive and flexible training programs, we make it easy to ensure your staff has the skills they need to successfully manage and utilize your new technology to its full potential.
Consulting
Consulting services give expert guidance to help you grow, optimize and transform your IT environment at your own pace and budget. We employ a broad range of certified consultants and engineers, backed by program management teams, who can deliver deep technical expertise. We give you the confidence that your project will be done right and on time.